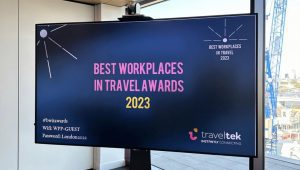 Last night Traveltek were headline sponsors at the Best Work Places in Travel. Here I'm sharing why this is a topic so important to us at Traveltek.
I love a good trend in the Travel Industry. Whether its big data, hyper personalisation, AI and ChatGPT. Everyone is an expert and it's a bandwagon that everyone jumps on. In 2022 the new phrase of "the war for talent" was born. In a lightening speed way, our lives changed forever. The talent pool could work remotely and live wherever, and everything changed. Company culture took on a whole new lens and focus.
My biggest learning and observation in the last 2 years is that there is 'no silver bullet' in this area. Company culture is important because it shapes the overall work environment and influences employee behaviour, attitudes, and interactions within the wider company. A positive and strong company culture is the single most important investment any business needs to make :
Traveltek over the last 2 years have invested heavily in this area, here is what we did:
We conduct anonymous eNPS surveys every quarter to track and most importantly act on feedback.
This feedback helped us shape new staff benefits, such as the Friday 2pm finish.
We introduced  Perkbox to help our staff save money on weekly essentials and treat themselves.
Wellness content – again through Perkbox, they provide webinars on nutrition, content on yoga HIIT, meditation, sleep stories and much more.
We've run fitness challenges using Strava and we have countitbot that's integrated into our slack and pings us to tell us we need to do some exercise and move!
We created the culture squad 2 years ago, they do a Friday round up every fortnight, where we celebrate successes, using Perkbox we highlight recognition. Getting this recognition across the business was game changing – a simple thank you is priceless. It also fundamentally changed our communication.
We continue to offer a remote first and flexible working model, and staff can and have worked from anywhere, including the slopes. We recently also enabled 2 employees to experience moving and working in different countries.
Training and coaching is an integral part of our business, all staff have free Udemy access which is a global training platform and we encourage managers to also learn about the soft skills of management.
So what did this  do for our business?
Last year our eNPS score finished the highest ever at +60
Customer satisfaction improved greatly – in tech it's always a challenge and our investments in product and innovation are key to driving this up further.
Our revenues achieved budget, so our business performance meant it was our best year ever. 2023 has started strongly and we are on track for another record year.
Flow metrics and productivity in all our development and support teams moved positively
We asked our staff, what do you love about Traveltek?
"I truly appreciate the current opportunities we have to shape our product and make a meaningful impact in a relevant market. It's exciting to see how our work can influence and shape the industry"

"The culture is both supportive and flexible, and team members actively help and encourage one another"

"Traveltek treats their employees like adults. There is no micro-management or chain of command. We have the freedom to work autonomously and self-manage our workloads. There is an inherent level of trust in our ability to do a good job"

 "I love working at Traveltek because of the daily opportunity to solve new problems, gain knowledge, and be part of a supportive and respectful team in a great culture"
The reason there cannot be a silver bullet is that culture is an evolution, it takes time, but its the small details and the little things that show employees that you care. This quote from author Stan Slap, perfectly sums up what I've personally witnessed during the last 2 years.
"A company can't buy true emotional commitment from managers no matter how much its willing to spend, this is something far too valuable to have a price tag. And yet a company can't afford not to have it.
Congratulations to all the shortlisted companies and of course the winners last night!   Panache Cruises Easyjet Holiday  Jet2 holidays