Cruise Booking Engine
Cruise booking software solutions for the global travel trade
Traveltek is the market-leading provider of cruise booking solutions. We were the first travel technology company to take the plunge, developing advanced cruise booking tools for consumer and trade websites to, creating a complete cruise solution that left our conservative competition treading water. We were the first technology specialist to offer true dynamic packaging of cruise products, hotels and flights from any supplier, and the first company to offer agents the ability to hand pick every facet of a custom cruise itinerary, enabling them to sell it as one single package using our complete cruise selling solution, CSI. Today, Traveltek remains the only one-stop shop for cruise packaging, empowering bookers to integrate cruise with a range of travel add-ons, priced and displayed in the currency and language of their choice.
---

---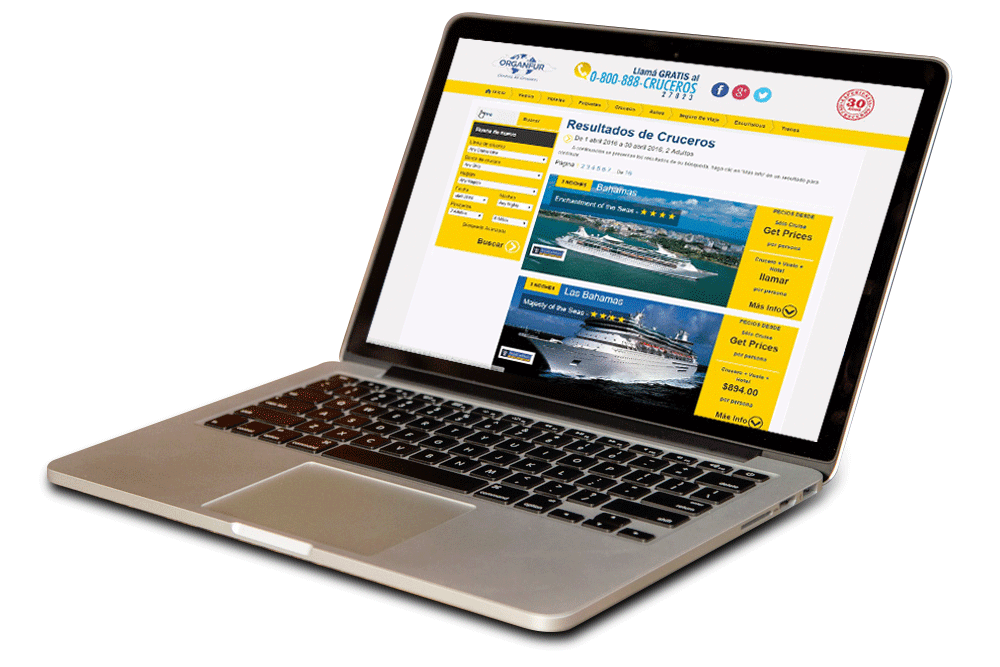 Content Rich
Our experienced content team ensures our database of available cruises is up-to-date and accurate. Every itinerary from every cruise line (even those bookable offline only) in all of our available markets and in every language that we support, is updated on a daily basis. From comprehensive cruise line and ship descriptions to detailed cabin information and supporting images that bring the product to life, our content is designed to maximise cruise selling opportunities. Our cruise selling solutions give travel companies the option to make their own insightful edits, based on their knowledge and experience. Using our cruise administration tool, agents can also upload their own images, write their own descriptions, add in extra details and even create their own cruise itineraries. No other system on the market provides this level of content flexibility.
Tailored for you
Our complete cruise solutions are tailored to suit your individual business needs. From basic cruise-only packages to complex travel itineraries that include a cruise component, our product suite covers all bases. Our Traveltek Cruise Pro solution provides all cruise brochure content; enables you to book every major cruise company online; and offers full administration capabilities for both consumer- and trade-facing websites. For more complex itineraries that package cruise with flights, hotels, transfers and other ancillary providers, our complete cruise solution provides you with all the tools you need. To take your cruise itineraries to the next level, add Cruise Super Itineraries (CSI) to All Inclusive, which at the touch of a button, presents multiple flight, hotel, transfer and attraction options to suit your client's requirements. But for the ultimate set-up, Traveltek Cruise API will empower you to build your own content and packages on your own servers, with complete access to all of our cruise data.
Feature Chart
| Product Features | Pro | All Inc. | API |
| --- | --- | --- | --- |
| Cruise information for more than 100 cruise lines worldwide | | | |
| All brochure descriptions - ship, port, cabins, itineraries in your language | | | |
| Compare and filter options of search results | | | |
| Online booking of major cruise lines | | | |
| Pricing from cruise line flat files, with live pricing where possible | | | |
| Admin Suite to manage manual content, special offers and pricing | | | |
| A single call centre booking tool for available cruise lines | | | |
| Cruise dynamic packaging engine with optional CSI | | | |
| Worldwide flight, hotel, transfer & ancillary providers | | | |
Advanced Features
Traveltek's cruise booking solutions provide cruise specialists with a raft of advanced features, enabling them to make group bookings and cabin allocations, wholesale products and apply past passenger discounts, as well as cruise line promotion codes. They can be deployed across all platforms –consumer and agency websites and call centres – and like all Traveltek products, they integrate with every other system in our product suite. Manage your bookings through the Back Office, store enquiries and send attractive quotes with our CRM, and package complex travel components to create the perfect itinerary for your customer.
CONTACT OUR EXPERT TEAM TODAY FOR MORE INFORMATION