Taking the hot seat this month is Ryan Begen, Senior Developer & Architect here at Traveltek Ltd. Want to know more about his average day at work or his favourite move, read on:
What part of the world do you call home?
Scotland. It's a great place, there is the busy modern cities, more historical towns and then the amazing nature. Driving up the A82 towards Glencoe is like driving through a magical world or something.
What was the name of the last book you read?
Yeah ask the dyslexic guy about books 😂
More seriously, I'm currently reading Alice's Adventures in Wonderland, I really like the movies and realised I had never actually read the book so thought I'd give it a go. The last book I finished was No Rules Rules by Reed Hastings (Netflix co-CEO) and Erin Meyer.
What is your favourite holiday destination?
This is a hard one. I have a few. I'm just back from a holiday in Barcelona and it has definitely taken my top spot for city breaks although Amsterdam is a close second. For beach type holidays (although I'm a pool type of guy, I hate sand – It's coarse, and rough, and irritating, and it gets everywhere) I love going to the greek islands.
All-time favourite movie?
Definitely Rocky Horror Picture Show (original 1975 one, although the 2016 version was alright too). It's a movie for queer people and weirdos and I'm both 😂 I actually have a tattoo of Frank-n-Furter.
What was the last thing you googled?
I'm not going to lie, I had to google the names of the authors for No Rules Rules. Before that I googled the names of a few vinyl record shops in Glasgow to find out where they are so I can visit at lunch.
Do you have a favourite hobby?
I'm a big gamer. Not just video games, I love a good boardgame and I play table top RPGs (Usually Dungeons & Dragons) several times a week. I'm currently writing my own home-brewed campaign set in a world inspired by fairy mythology and also the Tim Burton Alice In Wonderland.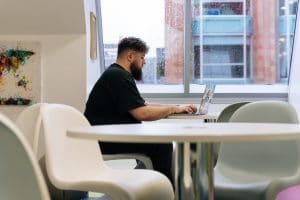 What does a typical day look like for a developer in the V2 project team?
I could write a book about how we work together but I'll give a short(ish) version.
Also I'm probably a bad person to ask for an average day since I'm the team lead and have a lot of meetings. For the pure developers each day is a little different and we all work slightly different hours (we are very big on being flexible).
An average day is something like:
Before 11 – Review yesterdays work, catch up on emails, slack etc. and once there's more than 1 person online start a pairing programming session. We use zoom for voice and Jetbrains Code With Me for shared access to our development tools.
11-11.15 We have standup. The full Lightning Hammers team (Dev, Product, Test, Devops and our Scrum master) get on a call to update each other on progress and to discuss any issues.
11.15-12.30 Back to pairing.
12.30 – 12 Lunch and any individual tasks.
14 – 17.30 Pairing again, making sure we take regular breaks. We advise the 10/60 rule. 10 second eye break every minute and 10 minute break every hour.
Thursdays are different because we have a lot of scrum ceremonies that day. 11-12.30 is planning, 14-15 is a retro or sprint review.
Fridays we dedicate to personal development.
You recently joined Traveltek. What three words would you use to describe the culture?
Three words is hard. Can I do three sentences? First thing I noticed is that the company is very trusting of its people. Everyone I've spoken to is very welcoming and friendly, that includes Mal and the rest of the exec team. Another thing I've noticed is that we are very driven, we want to do better, we want to be the best but not at the detriment to our team.
I guess the three words would be Trusting, Welcoming and Driven.
More 60 Seconds With: