Traveltek Lodged Card Management System (LCMS)
This month's Tektalk we are re-looking at the LCMS as it may have been sometime since you have checked the validity of your cards, adjusted the detail or even added new cards. Below is a reminder of how to access the LCMS system and about downloading the DUO Security application.
Sometimes it is necessary to pay a supplier directly by Credit or Debit card rather than using an account system where an invoice is produced later. To allow the booking process to proceed without manual intervention, Traveltek's booking system can use Credit and Debit card data that has been stored securely on the Traveltek's platform to pay for these elements.
To allow for the secure storage and management of the Credit and Debit Card details, Traveltek provides access to the Lodged Card Management System(LCMS). LCMS allows users to securely add new card details or amend existing details. LCMS also complies with recommendations in the Industry Wide Standards(Known as PCI DSS: http://en.wikipedia.org/wiki/Payment_Card_Industry_Data_Security_Standard) Part of these recommendations involves using 2-Factor Authorisation, which allows systems to be sure that a user is who they say they are by firstly requiring a password and secondly requiring authentication on a Mobile Application. This is the same sort of system used in On-Line banking where the bank will send you out a keypad or similar to produce a code to type in as well as your password. Card Details are encrypted within LCMS and only your nominated users will be able to see and amend these details.
Traveltek will have no access to the Card Details you type in. Each card will be assigned a number starting from 1 and you can then provide this to Traveltek to set up which card should be used with which search on your website, allowing you to have multiple cards for different uses.
Logging in for the first time
Initially Traveltek set up the required users with a username and a temporary password via email. When you received this email, you were asked to visit the LCMS website:
Where you will see the login screen: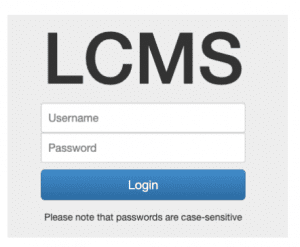 You should enter your username and temporary password: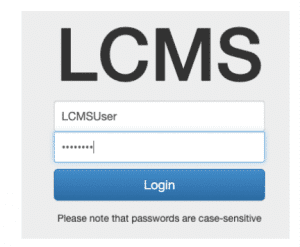 Duo Security and 2-Factor Authentication
Upon logging in for the first time you will be asked to sign up for Duo Security. Duo Security (https://www.duosecurity.com/) is a trusted method of allowing 2-Factor authentication. The Duo Security system allows Traveltek to know that not only do you have the correct password to allow you to access the card details, but that you are in possession of the authorised device to allow access.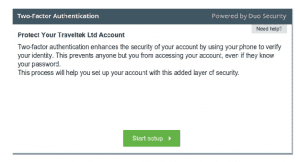 We recommend that you set up Duo Security on your mobile phone to allow quick and secure access to LCMS when needed: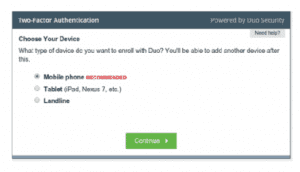 Enter your mobile number and tick the box once you have checked it is correct.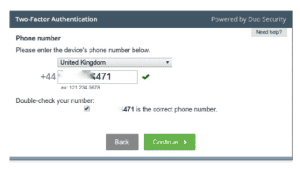 On the next page choose the type of Mobile Phone system you use, such as iPhone, Android (for Mobile Phones such as the Samsung Galaxy s5 or the HTC One), BlackBerry or Windows Phone (for Mobile Phones such as the Lumia 735).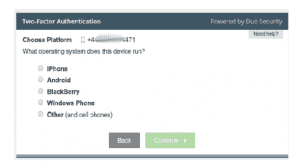 Once you have chosen your phone type you will be given instructions on how to install the App: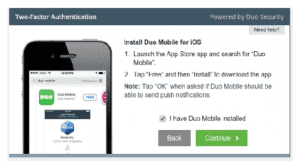 Once installed, you will be asked to scan the Barcode on your screen. Just follow the instructions in the App and point the camera at the Barcode.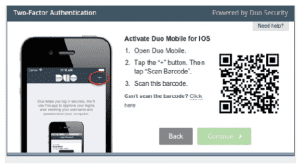 Once the Barcode is scanned, the Duo Security system will tell you if your mobile was successfully set up: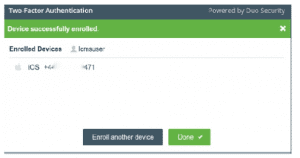 Your mobile should now be setup to use the Duo Security App. To perform the security check. Choose the Duo Push option:
This will send a request to your mobile. Follow the Duo Security App instructions and accept the request.
Once you have successfully logged in for the first time you will be asked to change your temporary password: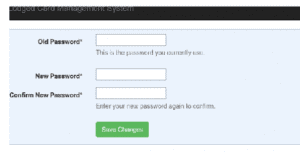 Choose a new password and press Save Changes.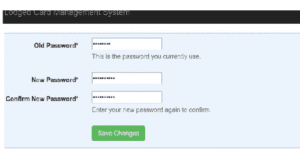 Creating a new Lodged Card
Once you have logged in, you are able to add new cards to the system on the screen below.

When your login was setup your sites will have been assigned to you so that you can administer any sites that are hosted by Traveltek. If there are any sites that don't show in the dropdown, contact Traveltek Support and they will have them added.
Fill in as much applicable information as possible, the more information that is entered, and then the less likely a booking will fail for incorrect card details.
Managing Cards
Cards can be managed by clicking the Edit Button next to each card and amending any details as necessary.

Cards can also be deleted using the checkboxes at the left hand side. Choose which cards you wish to delete and press the delete button at the bottom of the list.
Please ensure that you contact Traveltek to change over any active cards to new ones before deleting the old details. This way you can be sure that no booking process will take place without card details being present.
CTA??????