Traveltek is excited to announce the initial launch of our latest product to the North American market, AgentConnect. This new and fresh web based cruise search product is set to transform the way travel agents interact with their customers.
AgentConnect will initially offer users quick and easy access to cruise results, helping them to explore the world of travel in a seamless and efficient manner. While AgentConnect will be offering Cruises first, we also have plans to expand our travel product offerings to include flights, hotels, car hire, transfers, and more in the new future.
At Traveltek, we pride ourselves on offering global travel technology solutions, and our latest product is a testament to our commitment to innovation and excellence. With its intuitive user interface and cutting-edge technology, our new web-based product is designed to provide travellers with the information they need to make informed decisions about their travel plans.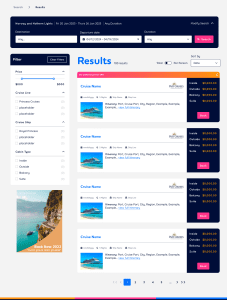 The benefits of AgentConnect are simply unparalleled when compared to traditional travel technology solutions. Our technology is built using the latest tools and technologies such as Python and React, which ensures that your search results are delivered faster and more efficiently than ever before. Traditional methods often involve slow and outdated technologies, leading to delays and frustration. AgentConnect's user-friendly interface is designed to make your life easier. Our technology is intuitive and easy to navigate, allowing you to find what you need quickly and easily. Traditional methods often have clunky and confusing interfaces, making it difficult to find what you need. The new AgentConnect product from Traveltek offers users three core benefits: conversion, speed efficiency, and brand enhancement. Take a look at our AgentConnect product page for more information on how it could transform your business.
While AgentConnect will initially support cruise search results from the North American market, we have big plans for the future. As the product evolves through 2023 and beyond, we will be expanding to other markets such as the UK and APAC. This means that even more people around the world will be able to take advantage of the powerful tools and resources offered by AgentConnect.
At Traveltek, we take customer feedback seriously. That's why we're treating AgentConnect as a product and will be using customer feedback to drive the roadmap. While we are an award-winning specialist in travel technology, we recognise that our users and their customers know what a product needs to do in the modern travel sphere. That's why we are committed to building our products in a way that supports their needs and requirements.
To ensure that we are meeting the needs of our users, we will be using data insights and other feedback loops such as interviews, social media listening, community tools, and good old-fashioned conversations to drive the priorities of the AgentConnect product. By taking a customer-centric approach, we can ensure that AgentConnect is always evolving and improving to meet the changing needs of the travel industry.
We believe that travel should be accessible to everyone, and that means creating products and tools that are easy to use, efficient, and effective. By working closely with our users and their customers, we can create a product that truly meets their needs and supports their goals.
So if you have any feedback or suggestions for AgentConnect, we want to hear from you! Whether through social media, email, or a good old-fashioned phone call, we are always open to hearing what our customers say. Together, we can create a travel technology product that truly revolutionises the industry.
To access AgentConnect, all you need is a Google or Facebook account or your email address. Once you're signed up, you can start searching for cruises and exploring the world of travel in a whole new way. Simply click here to access AgentConnect.